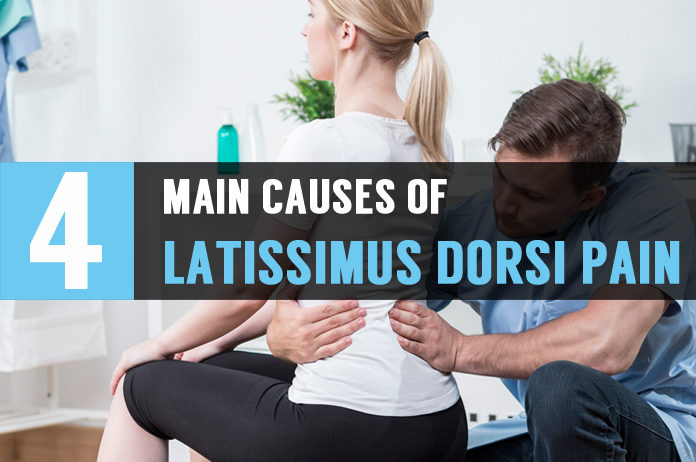 When a person suffers from pain in the middle back along in the shoulders and upper arms then it is known as Latissimus dorsi pain. This type of pain is mainly caused due to injury in the muscle spasms when a person is playing sports or engaged in some type of physical activity. Muscle pain will move from your back to your neck along with shoulders. Latissimus Dorsi pain will create breathing problem because latissimus muscles will help in moving your ribs from up and down. Sometimes if the wrong muscle is stretched then it will cause strain in the muscles. You will come across with different ways where you can easily remove pain from the Latissimus Dorsi.
What Is Latissimus Dorsi Pain?

It is the triangular shaped muscle which is one of the powerful muscles in your back. According to the studies, "Lats" are connected with the spine along with hip bone and upper arm bone. This muscle is an important muscle which helps in the movement of arms along with lifting the upper body. This muscle is also connected with the respiratory muscles and helps in breathing.
Major Symptoms Of Latissimus Dorsi Pain
Latissimus Dorsi pain will also cause pain in the back along with limbs and tissues surrounded nearby. Too much stretching can cause discomfort along with stiffness in shoulders along with back pain. It will also lead to Rhomboid muscle pain. If there is tearing in the Latissimus Dorsi muscle it will cause sudden along with severe pain in the areas which is affected by your back. It will also affect the movement of muscle arms along with lower back area. Depending on the pain in the muscles, anti-inflammatory treatments are adopted in order to relieve swelling.
 Main Causes Of Latissimus Dorsi Pain
 The main causes of Latissimus Dorsi pain is due to:-
Workers who are using their hands above their heads can easily get sore and stiff shoulders which are caused due to latissimus dorsi strain in the muscle.
Those activities which involve straining in the shoulders like chopping of wood along with swimming can also affect back muscles.
Latissimus Dorsi muscle tear will also result in pain suffered by gymnasts along with weightlifters and rock climbers
Sports will involves hitting a ball with bat can stretch your lats
Injury
 If there is any injuries in Latissimus Dorsi can also result in tearing of the muscles. According to doctor's serious pain along with traumatic injuries are also the main factors of the Latissimus Dorsi injuries. It can be caused by the ripped or damage of the muscle tissues.
Incorrect Posture
When you are taking your workouts and have incorrect posture it will cause strain in your Latissimus Dorsi muscle which will leads in back and shoulders pain which are recurring in nature. If you are standing in the wrong position when you are about to carry weights or hitting the ball while playing rackets can also pull strain in the muscle which is attached to the lower spine along with shoulders.  Apart from that if you have incorrect foot replacement while doing your workouts can also affect pain in Latissimus Dorsi.
Treatments Of The Latissimus Dorsi Pain



You will come across with different treatments of Latissimus Dorsi pain which will help you in relieving muscle pain quickly.
I.C.E method- This method is one of the best ways in relieving muscle pain faster. The full form of R.I.C.E includes Rest, Ice, and compression along with elevation which helps in reducing the pain of the muscle.
Massage- This is also one of the best methods in relieving muscle pain where the person who is doing massage will have to concentrate more on the lumber region along with spine and around your shoulders. It will help in relieving muscle strain faster without creating any kind of problem for the same.
Workouts –Patients will also come across with different kinds of exercises that will help them in reducing muscle pain in the body. It will include couple of exercises that will include pelvic tilt along with back bow and twists
All these three measures will help the person in removing muscle pain quickly.
How To Prevent The Problem Of Latissimus Dorsi Pain

Patients will come across with different measures that will help them to prevent the problem of muscle pain. Some of the measures will include
Correct posture- Person can prevent the pain in their lower back by adopting correct posture while lifting up the objects. They should also notice some basic things in order to avoid pain. It will include some basic steps regarding sitting on the chair along with keeping their head and chin straight.
Strengthening of core muscles- Person should also strengthen their core muscles that will help the person in relieving muscle pain faster. The person will come across with different kinds of exercises that will help them in relieving muscle pain faster.
Massage at home– person should take up the massage facility by person at home or clinic. This will help them in relieving their muscle pain faster without any problem for the same. they should also take interest in knowing about the different exercises' that has to be in regular interval if time.
Sleep more- Person should take rest about 3 hours daily that will help you in knowing about the different techniques that are followed by the person.
Conclusion– Thus we can say that it is the best methods where clients can easily use such methods that will help them in relieving faster. There are couples of workout that will help the person in knowing about different exercises' that will help them in relieving muscle pain fast.  Person will also come across with home remedies that will help them in relieving muscle rate at faster mode. If a person wants to take entire decision about the same. they can ask their wonder to give is the property for the sane